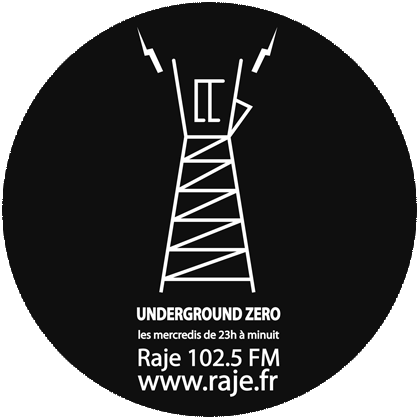 Message de r.boy :
"Un nouveau chapitre de la vie d'Underground Zero se termine. L'émission ne sera plus diffusée de manière hebdomadaire sur les ondes de Raje. La forme reste encore à définir, mais le projet Underground Zero renaitra bientôt sur internet grâce à Martial. Je quitte l'aventure avec un petit pincement au coeur, mais il faut parfois faire des choix difficiles pour avancer. Ces quelques trois années (et non pas quatre comme je le dis dans l'émission
ont été une expérience unique, parfois fatigante, parfois ingrate et chronophage, mais par dessus tout une belle aventure humaine.
Voilà, tout est déjà dit dans l'émission, mais au passage je renouvelle les remerciements aux auditeurs qui ses sont manifestés et aux autres plus discrets (même nous doutons de votre existence ; )aux participants ou fondateurs Denis, Florence, Reno, Anthony, Wilhem, à Dany et Defect, à Thierry Noise 'r' Us; Rien À Branler; Denis, Damien, Gabrielle et l'Assos'Y'Song, toute l'équipe des Lozériens, Poutre, Pord, Out Of School Activies et Steve Albini, parrain malgré lui.
Surtout merci à toi Martial pour ces moments et pour la suite que tu nous prépares !
Dernières recommandations : Prenez bien vos médicaments, achetez des disques et allez aux concerts. Faîtes passer le mot autour de vous : le rock n'est pas mort !"
Pour cette dernière sur Raje, on a essayé de réunir toutes les personnes ayant contribué à l'histoire de l'émission. Mission presque accomplie avec Reno, Emil, & Denis dans le studio ! Retrouvez nos nombreuses aventures dans notre reportage photo
Bye bye et à bientôt, restez connectés sur le http://undergroundzero.podomatic.com//
-------------------------------------------------
01. TEN VOLT SHOCK - Forward lines
("78hours", 2010 / Screaming Mimi, X-mist, Salon Alter Hammer And Bakery Outlet) DE
> http://www.tenvoltshock.de/
02. ONE FOOT DANCER - The dreamer
("The dead note theory", 2010 / Contreplaqué Records - Goback Records - Assos'Y'Song - Karaoké 666 - Boom Boom Rikordz - Katatak & un label dont le logo est en forme de tête) FR, Montpellier
> http://onefootdancer.free.fr/
03. YEAR OF NO LIGHT - Metanoia
("Split w/ East Of The Wall & Rosetta", 2010 / Translation Loss Records - Denovali - Vega Vinyl) FR, Bordeaux
> http://yearofnolight.free.fr/
04. THE FLAMING LIPS - Convinced of the hex
("Embryonic", 2009 / Warner Bros) US, Oklahoma
> http://www.flaminglips.com/
05. X-OR - Noël
Vous pouvez télécharger les (super) productions des hérauts toulousains sur leur site (Nous dégageons toute responsabilité bien entendu).
> http://xormusic.free.fr/
06. UNSANE - Grind
("Coextinction Release 1", 2010 / Coexisting Records) US, Brooklin
> www.theunsane.com
07. DEFECT - Drapeau noir
Attention, Enregistrement répète !
Pas de sortie encore pour ce jeune groupe Avignonais. Préparez vous à la suite qui s'annonce prometteuse. Merci les gars !
08. GHETTO WAYS - Damn the dawn
("I always wanted you", 2010 / P.Trash Records) US, Brooklin
> http://www.ghettoways.com/
09. LES SAVY FAV - Lips n' stuff
("Root for ruin", 2010 / French Kiss Records) US, New-York
> http://www.lessavyfav.com/
10. THE EX - Life whining
("Catch my shoe", 2010 / Ex Record)
> http://www.theex.nl/
11. MASERATI - Bye m'friend, goodbye
("Pyramid of the sun", 2010 / Temporary Residence - Golden Antenna) US, Athens
> http://www.ihaveadagger.net/